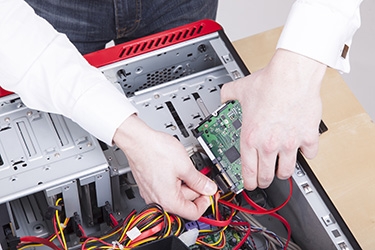 Bring your computer in to the shop to take advantage of our flat rate services. Benefit from standardized check in and service procedures with electronic service notifications.  A standard assortment of commonly required software and runtimes are installed and updated with service.
Have one of our technicians pay you a visit if it's more convenient.  We can perform any computer or networking service  necessary on site, or pick the system up and bring it back for full in shop diagnostics.
If you'd like advise on your systems we can perform a standard audit to see in detail exactly what you have and how it's set up and provide consultation as needed.
Shop Services
Diagnostics
Extensive hardware testing is conducted on your computer so that we can verify the source of the problem.  This can be considered a basic audit of the system and in some cases we perform this service as a quality control or a preventative measure against complications in other work we are performing.  Testing of the system disk, memory, data integrity, and power are routine in this process.
Advanced Diagnostics
Aimed at problems difficult to diagnose or software related, this service covers (when required): testing of multiple disks, optical drives, CPU, audio, video, peripherals, exhaustive motherboard troubleshooting, user profile testing, basic operating system analysis.
Disassembly
Simple disassembly is performed during a diagnostic procedure however some laptops, tablets, or proprietary desktops require considerable time to disassemble and reassemble properly.  In these cases an additional disassembly fee may be charged.
Data Recovery
Data is copied from one source to another provided by the customer.  Typically this is attempted in a migration to a new computer, a hardware failure, or a re-installation of the operating system.
Advanced Data Recovery
Billed in advance for the attempt, this a brute force recovery of a damaged disk.  This process can involve cryogenic techniques, and in some cases weeks of recovery time.  Chances vary, and depending on the initial assessment this service may be recommended against.  We do not physically rebuild the device.
Operating System Reinstallation
The system is wiped and an operating system is reinstalled.  All drivers are installed and the system is restored to working order.  No 3rd party programs are installed or configured.  We require a valid product license to perform this procedure.  We support Windows,  Mac OS, and some Linux distributions.  Multi-boot systems are supported for an additional fee.
General Labor
Any service not covered elsewhere in this section is billed hourly in 15 minute increments. 
System Recovery
This service is a packaged and must be approved before or immediately after diagnostics.  If your system is not functioning properly due to software problems (including a virus), or a failing hard disk, this is the quickest most effective solution to back up your data and perform a fresh install of a licensed operating system.  When requesting this service you can expect some basic programs and drivers installed and your backed up data restored and easy to find.  You will need to reinstall and set up any software applications that are not a part of the OS, so make sure that you have the required disks, passwords, and serial numbers available to you before this service is performed.  It covers Diagnostics, Data Recovery, and Operating System Re-installation.   We support Windows,  Mac OS, and some Linux distributions.
On-site Services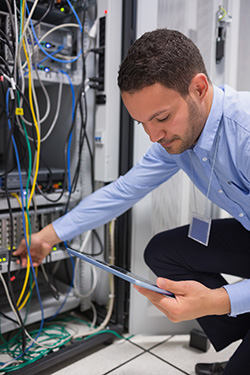 Travel Fee
A standard fee billed for trips within 25 miles of the previous location.  Travel will need to be calculated for greater distances.
General Labor
On-site repair and troubleshooting services billed hourly in 15 minute increments.
General Consultation
On-site technology consultation billed hourly in 15 minute increments.
Auditing
System analysis and data collection for computers, servers, networks and telecom systems; billed hourly in 15 minute increments.
Network Security
Programming and review of computers, network switches, access points, routers, firewalls, intrusion protection systems and monitoring devices; billed hourly in 15 minute increments.